The N6ii AC Edition is a special bundle package orchestrated by Audio Concierge. It includes the amazing Cayin N6ii portable player engraved with the Audio Concierge branding and comes bundled with the A01 and the T01 audio motherboard for your convenience. If you are not sure which model to opt for then this bundle easily enables you to buy and experience both the modules currently available for the N6II. After first hearing the amazing sound of the Cayin N6 II portable player at HIGH END Munich 2019 it was very clear that we had to make it part of our carefully curated portfolio alongside Cayin's range of flagship N8 high resolution, luxury players. The unique sound of the N6 II surpasses the sonics of most portable players currently on the market sub £2000. The stunning build quality alongside the ample on-board storage capacity and power output makes the N6 II our go to player for most clients portable DAP requirement. Headfonics reviews the N6ii portable player and gives it a massive 9.2 out of 10

Unlike the custom OS found on the flagship N8 player, the N6 II comes loaded with Android and Google Play in Europe, providing you access to all of your favourite apps that make your music listening as enjoyable as it can be.
As an incredible piece of functionality the N6 II features HibyLink compatibility meaning that you can control the player using your mobile phone. Simply leave the player in your pocket or bag and swim through your music collection using your mobile phone.
As has become the trend with recent DAP launches such as the FiiO and iBasso DX220, Cayin have offered users the opportunity of changing out the entire DAC and AMP board of the N6 II in future. This means that customers can either choose to stay with the build in A01 board or they will soon be able to change the sound signature of the player and upgrade to another board with different specifications. This gives users utmost flexibility and the opportunity to have the N6 II for much longer as boards get launched and users can change the sonics without having to purchase a completely new player.

N6ii is powered by a Snapdragon 425 SoC paired with 4GB DDR3 RAM. It runs on a customised Android 8.1 with Google Play pre-installed and Direct Transport Audio (DTA) bypassing Sample Rate Conversion (SRC) of Android system completely, all music playback (local and streaming) from all applications will decode in original Hi-Res without resampling. The N6 II has Cayin Music and HiBy Music preinstalled as well as its music players.
The N6 II features a large 4.2 768×1280 HD IPs display with 64GB of internal storage, plus a microSD card slot that can support up to 512GB of microSDXC.
N6 II is equipped with I²S digital output (or Inter-IC Sound) via a HDMI Type-C connector (aka. Mini-HDMI). This is definitely the most preferred digital interface both in terms of digital capability and audio performance. If you are using a Cayin DAC with compatible I²S input, such as the CS-100DAC or iDAC-6MK2, this will be the preferred digital interface.
There is also WiFi 2.4G/5G connection with Bluetooth 4.2, supporting SBC, AAC, aptX and LDAC *. Cayin N6ii is powered by a huge 5900mAh rechargeable battery and comes with Type-C USB connector.* Bluetooth: SBC and LDAC (Receiver mode).
The A01 Audio Motherboard
The A01 Motherboard is designed around the AKM flagship AK4497EQ DAC chipset. To make sure the premium DAC chipsets will operate in optimum condition, they have employed THREE extremely low-noise high-precision Femtosecond Crystal Oscillators (45.1584MHz, 49.152MHz, 100MHz). High precision low jitter digital transmission is the base of high-quality digital playback. It is how they deliver a natural, non-digital and musical playback to subsequent audio circuit.
It is fully optimized for fully differential amplification, and the final headphone output stage employs 4 pieced of OPA1622 in parallel amplification configuration. This will increase the output current capability and lower the output impedance. In practical, these improvements will translate into better control, ability to sustain a heavier loading, and drive most portable headphones with ease and offers lots of headroom.
This is Cayin's first modular based portable player, and the Audio Motherboard consists of DAC and analogue amplification circuit and it comes with 3.5mm phone out, 3.5mm line out (dedicated), 4.4mm phone out and line out (shared).
The T01 Audio Motherboard
The T01 Motherboard is designed around the Texas Instruments PCM1793A which is the second audio motherboard for Cayin N6ii DAP. This is our ultimate design for the legendary PCM1792A DAC chip for portable audio application. You have to listen to this before you can imagine that a high quality 10-years old DAC chipset can sound that good when implemented correctly.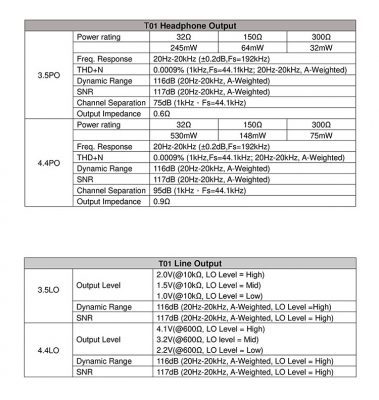 Features
Powered by a Snapdragon 425 SoC paired with 4GB DDR3 RAM
Customized Android 8.1 with Google Play pre-installed and DTA that will decode in original Hi-Res without resampling
Large 4.2? 768×1280 HD IPs display
64GB of internal storage and microSD card support up to 512GB of microSDXC
Equipped with I²S digital output (or Inter-IC Sound) via a HDMI Type-C connector (aka. Mini-HDMI)
USB Type-C
WiFi 2.4G/5G connection and Bluetooth version 4.2
A01 Motherboard – designed around the AKM flagship AK4497EQ DAC chipset
3.5mm phone out, 3.5mm line out (dedicated), 4.4mm phone out and line out (shared)